After School & Enrichment - STEAM Coding & Robotics Programs for ages 5-14
STEAM education is the intentional integration of science, technology, engineering, and mathematics, and their associated practices to create a student-centered learning environment.
Student-centered, project-based, inquiry driven and complementary to the School curriculum
Less formal setting encourages collaboration, and multi-age grouping helps drive peer-to-peer learning
Ideal places to deliver STEAM activities that have relevance to students
We come to you - preschools, elementary school, recreational centre and alike
Programs for High Schoolers and those transitioning from elementary to high school like Python, AI and Machine Learning (Grade 5 onwards).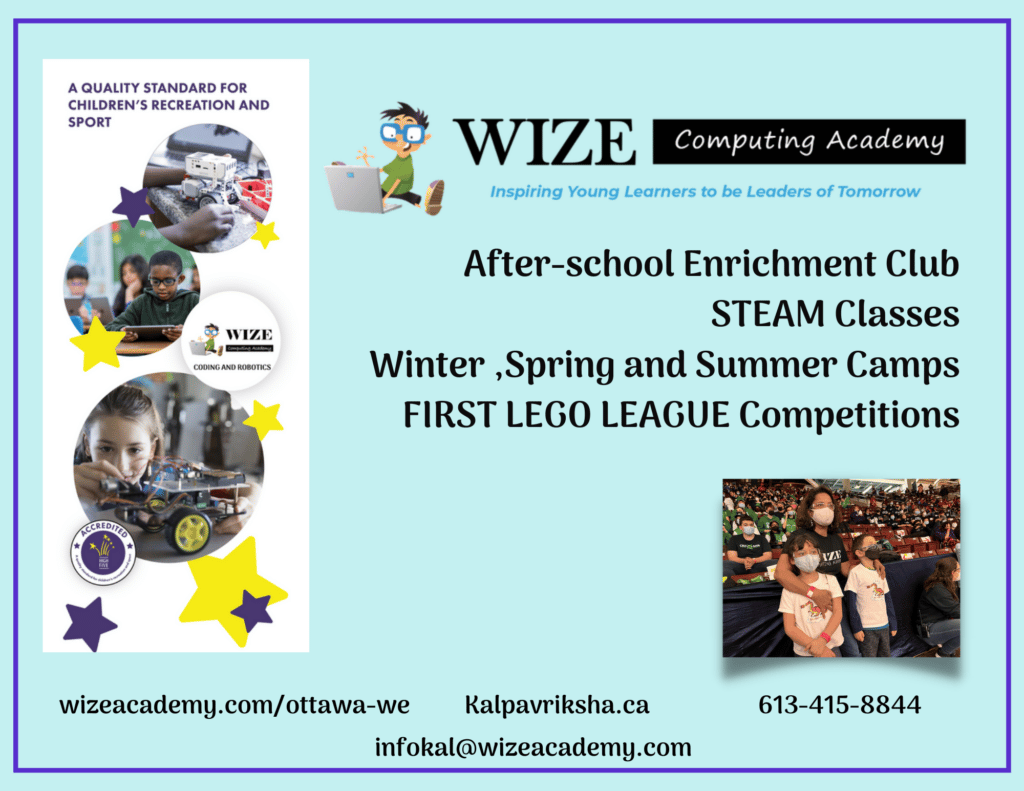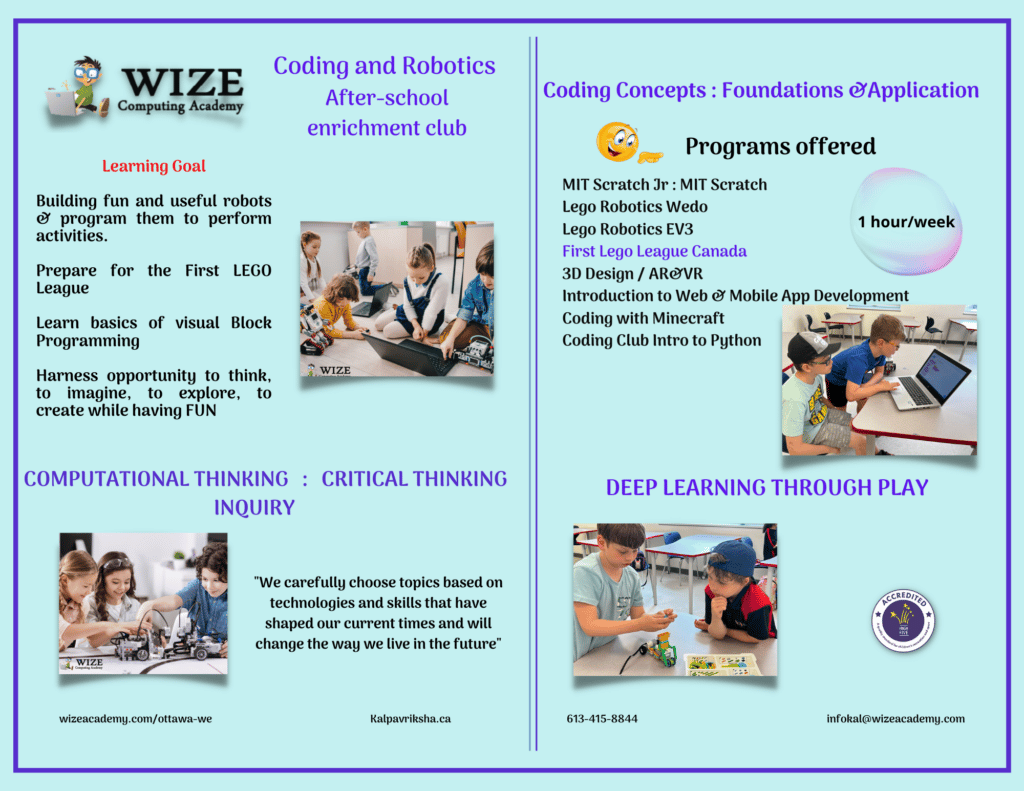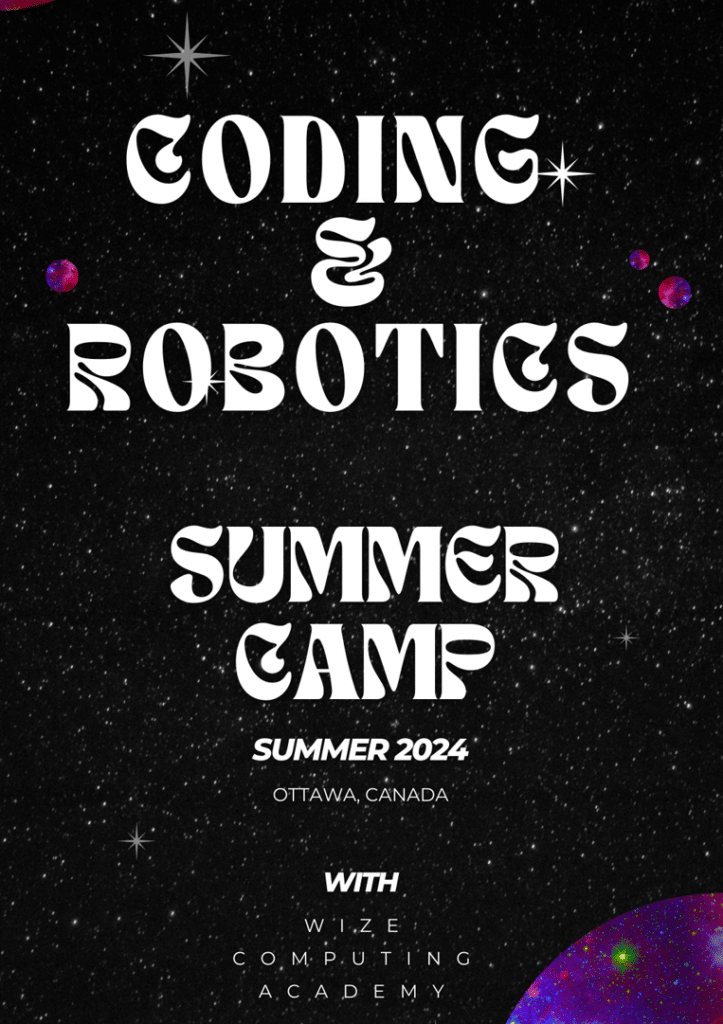 Unleash Your Child's Creativity at Our Coding and Robotics Summer Camps in Ottawa, Canada!
Are you searching for an engaging and educational summer camp for your child? Look no further! Our Coding and Robotics Summer Camps are specially designed for kids aged 5 to 14 years, offering a dynamic and fun-filled learning experience.
What We Offer:
At our summer camps, we blend the excitement of summertime with cutting-edge technology education. Here's what your child can look forward to:
Coding Adventures: We introduce campers to the world of coding through interactive games and creative projects. Children aged 5-14 can learn the basics of programming or enhance their coding skills, depending on their level of expertise.
Robotics Exploration: Our camps feature hands-on experiences with robotics, allowing campers to build and program their robots. This immersive experience nurtures problem-solving skills and ignites a passion for robotics.
3D Modeling and Design: For the young innovators, our 3D modeling and design sessions unlock the potential to create their own 3D masterpieces. Campers can design, print, and bring their ideas to life using industry-standard software and 3D printers.
Student-Centric Project-based Enrichment Programs
PreK & KG
Description: Students adventure through code as they begin building animations, games, music, videos. They sculpt their coding muscles in this coding
adventure and leave having learnt to code using this very easy to use tool for block-based coding from MIT
Learn basics of Visual Block Programming using MIT Scratch Jr
Acquire basic programming skills and coding concepts that professional programmers use in their daily work
Harness opportunity to think, to imagine, to explore, to create while having FUN!
1st & 2nd Grades
Description: Learn basics of Visual Block Programming using MIT Scratch Jr and MIT Scratch
Learn and apply computational thinking concepts to create games or animations
Lego WeDo & Spike Essential
Prepare for First Lego League Jr
3rd to 6th Grades
MIT Scratch: LEGO WeDo 2.0 & Mindstorms EV3 : Spike Essential & Spike Prime : Modding in Minecraft : Intermediate and Advanced MIT Scratch
Description: Students are introduced to computational thinking by building robots and programming them, and through the creation of animations and
games. In this tested & proven curriculum that follows computer science standards, we plan to help students develop into logical thinkers,
problem solvers and creators through creative robotics and coding projects. Students will solve problems and discover how science,
technology, engineering & math affects their everyday life. We will do this through building fun and useful robots and programming them
to perform activities. This program will also help students to enhance their cognitive skills like hand-eye coordination, focus, self-esteem,
confidence and presentation skills.
6th Grade Onwards
Our Student-centric programs for High Schoolers and those transitioning from elementary to high school:
Python, AI and Machine Learning
First Lego League Jr and First Lego League
We prepare our students to participate in First LEGO League. Our students participate in various robotics and coding competitions.
Ages: 6-10 FLL Explore
Ages: 9-14 FLL Challenge
Project-based learning
Students learn by designing, building & coding FUN projects
Small Class Size
Low Instructor-to-Student Ratio
Computational Thinking
Logical Thinking, Critical Reasoning, Inquiry & Problem Solving
Enhance Cognitive Skills
Hand-eye co-ordination, Manual Dexterity, Self-esteem, Confidence & Presentation Skills