Wize Computing Academy is Expanding to more schools in Northwest Arkansas!
If you are an Administrator, Educator, Parent or Potential Student and would like Wize Computing Academy to come to your school next, fill out the contact info to the right and let us know.
After-School Computer Coding & Robotics Programs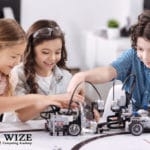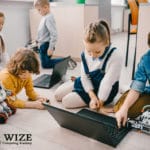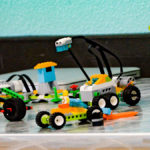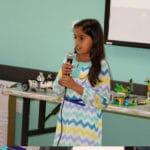 What People Are Saying About Us

Pooja Makkar
"I'd like to thank you for teaching my son. He really likes your class and always look forward to it. I saw the videos on seesaw. They are awesome."

Susan Sigler
Founders Classical Academy, Flower Mound
"We are glad to have your program, which provides such a unique learning experience for our students!"

Sarah Groce
Parent
Josiah is out sick today and will not be at robotics club. This will make him so sad because your class is the highlight of his week. He may not show it in the class, but he absolutely LOVES robotics. He comes home and tells us all about everything you guys are doing, and when we tell him it is robotics day he gets so excited.

Elisabeth Kreter McKibben
Parent
"We have absolutely loved our year at Wize Academy. This is our family's first experience with coding (neither my husband nor I are in the field) and this year we did a class with other homeschoolers (ages 5-8).
Ms. Venus did an absolutely fabulous job with the children. She uses the children's interests to allow them to create unique projects and teach them new skills. My daughter learned a ton about coding this year and Wize Academy provided enough information that she could do her "homework" (very minimal at her age) totally independently.
My favorite part was the end of year showcase. It was an amazing opportunity to understand the various types of coding and see all the childrens' progress. It was also an excellent opportunity to practice public speaking, poise, and presentation skills.
As a homeschooler, my intention is for my child to pursue independent studies that spark her interest while also developing core life skills. Wize Academy certainly provided a wonderful opportunity for all those things. I encourage all parents but especially homeschoolers to check out the unique offerings of Wize Academy."

Vijay Vijayasankar
Parent
"After watching my daughter and other kids learn to code doing a short course at Wize Academy , I must say I am super impressed with how they teach .
I learned C and Basic around 12 or 13 years of age . And I have taught programming classes at various levels . How I wish my intro to coding was this much fun !
The best part was the project work at the end . The kids had all the freedom to choose what they wanted to build , and then parents were invited to the last session of the course where the kids presented . I loved it ! The developer in me knows the pleasure of seeing my code execute well and I could see the same in my daughter – and that was quite a proud moment for me both as her dad, and as a fellow geek 🙂
Job well done Vishal, Venus andLekshmi – and thanks ! Maybe I can interview to be one of your teachers when I retire 🙂"

Executive Director, Creme de la Creme
Crème de la Crème in Allen has been using Wize Academy for our coding and robotics program this last year..Wize Academy works with our Crème prep students aged 4-5 and our Apres program including k-6th grade. They also provide specialty camps for our Summer Program including coding, robotics and Minecraft. Because of the success of this program 4 of our Texas schools are now using Wize Academy. We have found Wize Academy to be professional and accommodating. We recommend Wize Academy to anyone needing coding and robotics for children aged 4-13.

Angela Chavez
Garland Classical Academy
Wize Academy has had such an amazing impact on the students who are enrolled in the Robotics & Coding classes here on Tuesdays this year! The students look forward to each session and always come out with smiling faces boasting of the things they have learned. The enrolled students ages range from 1st grade to 6th grade and the teacher always accommodates the age differences accordingly. We hope to continue this program in the years to come as we know how important the STEM program is for  our future leaders!
Wize Computing Academy Summer STEM Camps
3D Printing & Design / Fly & Code Drones
We are combining two of our most fun camps into one great S.T.E.M. experience! In the morning sessions, our learners will be introduced to 3D Printing & Design, first by drawing projects in a easy-to-learn online computer aided design (CAD) software program, and then watching those designs turn into physical 3D prints they can take home. In the afternoons, we'll take to the skies and experience the thrill of control, coding and flying drones. We use both block and text-based coding, starting with simple programs to automate drone's flight path and continuing to more complex maneuvers. This camp is sure to be a lot of fun for your young learners.
Build your own Digital Games!
This is one of our most popular courses. Our young learners get to build their own digital games using a popular computer software language called Scratch. They will design their own chase games, side-scrolling, racing or other styles… set up high scores and let their friends try and beat them. The course will have various students of all levels of skills, from those new to Scratch to learners who are more advanced. We will design projects and coursework to match the skills of our students individually.
Advanced Robotics & Engineering
This is a great camp for young learners interested in learning more about Robotics. Students will begin with hands on building of LEGO Mindstorms EV3, learning how all the sensors and parts work. Then we will learn how to program those robots and sensors to manage through continually more challenging obstacle courses. Young learners will debug real time bots applying the concepts learnt in class and then transition into the world of electrical engineering & robotics. This camp is also great preparation for students who are interested in First LEGO League and other robotics competitions. This will be an awesome camp for engineers of tomorrow!!
Robot Petting Zoo/Coding For Beginners
The perfect combination of two of our most popular S.T.E.M. camp programs for our younger learners. In the mornings, students will create a robotic pet to delight and inspire visitors to the petting zoo. They construct their pets from familiar materials such as cardboard and craft supplies and use robotic components and programming to bring their creations to life. What a great opportunity to be super creative!! Then, students will take the afternoons to understand the basics of computer coding through the drag-and-drop languages like Scratch and Scratch Jr. This will be available for all skill levels, from beginners who've never touched coding to students who've already had exposure. Projects and teaching will be adapted based on individual skills.
Fill out the Request for Information form or go to our Facebook Page at facebook.com/wizeofnwa to learn more and sign up.