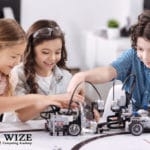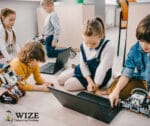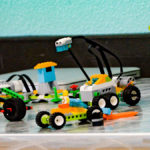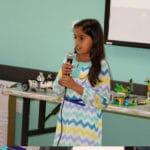 What People Are Saying About Us

Canem (parent of 7 yr old)
Parent
"My seven-year-old has loved his coding class with Wize Academy. It is a perfect combination of hands-on-learning in an atmosphere where the kids can be silly and creative. We've done it twice and plan to sign up again!"

Lisa (parent of 11 yr old)
Parent
[My son] has been having so much fun with these classes and LEARNING! Highly recommend.

Janie (parent of 6 & 8 yr old)
Parent
Phil and his team are amazing, great to work with and patient! Both of my boys have taken courses through Wize Computing Academy and enjoy it thoroughly and have learned so much. This school year both my sons, (6 & 8) learned how to code and my oldest learned how to 3D design and print. We are very grateful for the opportunities they offer!!

Chelsea (Grammar School Principal)
Grammar School Principal
Wize Computing Academy has been such a blessing to our families and students. It has provided an opportunity for our students to take their problem solving skills and apply them through a project-based approach to learning. Our students are better digital citizens, collaborators, communicators, and designers because of the classes that they have taken through Wize. It has been a joy to see our students become more empowered through the skills and lessons they have learned through robotics and coding.
Project-based Programs: Programming Adventures Using MIT Scratch
PreK & KG
Description: Students adventure through code as they begin building animations, games, music, videos. They sculpt their coding muscles in this coding
adventure and leave having learnt to code using this very easy to use tool for block-based coding from MIT.
• Learn basics of Visual Block Programming using MIT Scratch Jr.
• Acquire basic programming skills and coding concepts that professional programmers use in their daily work
• Harness opportunity to think, to imagine, to explore, to create while having FUN!
• Lego WeDo
1st & 2nd Grades
Description: Learn basics of Visual Block Programming using MIT Scratch Jr and MIT Scratch
• Learn and apply computational thinking concepts to create games or animations
• Lego WeDo
• Hummingbird & Micro:bit
• Prepare for First Lego League Jr
Project-based Programs: Engineering and Robotics
3rd to 8th Grades
MIT Scratch: LEGO WeDo 2.0 & Mindstorms EV3 : Hummingbird & Micro:bit : MIT App Inventor
Description: Students are introduced to computational thinking by building robots and programming them, and through the creation of animations and
games. In this tested & proven curriculum that follows computer science standards, we plan to help students develop into logical thinkers,
problem solvers and creators through creative robotics and coding projects. Students will solve problems and discover how science,
technology, engineering & math affects their everyday life. We will do this through building fun and useful robots and programming them
to perform activities. This program will also help students to enhance their cognitive skills like hand-eye coordination, focus, self-esteem,
confidence and presentation skills.
First Lego League Jr and First Lego League
We prepare our students to participate in First LEGO League. Our students participate in various robotics and coding competitions.
Ages: 6-10 FLL Jr
Ages: 9-14 FLL
Concepts covered:

Introduction to building & programming
Motors and Gears
Gearing Up & Down
Pulleys
Sensors – Motion, Tilt, Color & Infrared
Gears – Crown, Worm

Projects with focus on:

Engineering
Physical Science
Technology
Mathematics
Languages
Programming Language and Streams